Posted On May 19th, 2019
Problems with a scrap car? Wait, isn't a scrap car supposed to be the problem? You would think so, but no. Your scrap car isn't as worthless or problematic as you think and could help you make some money.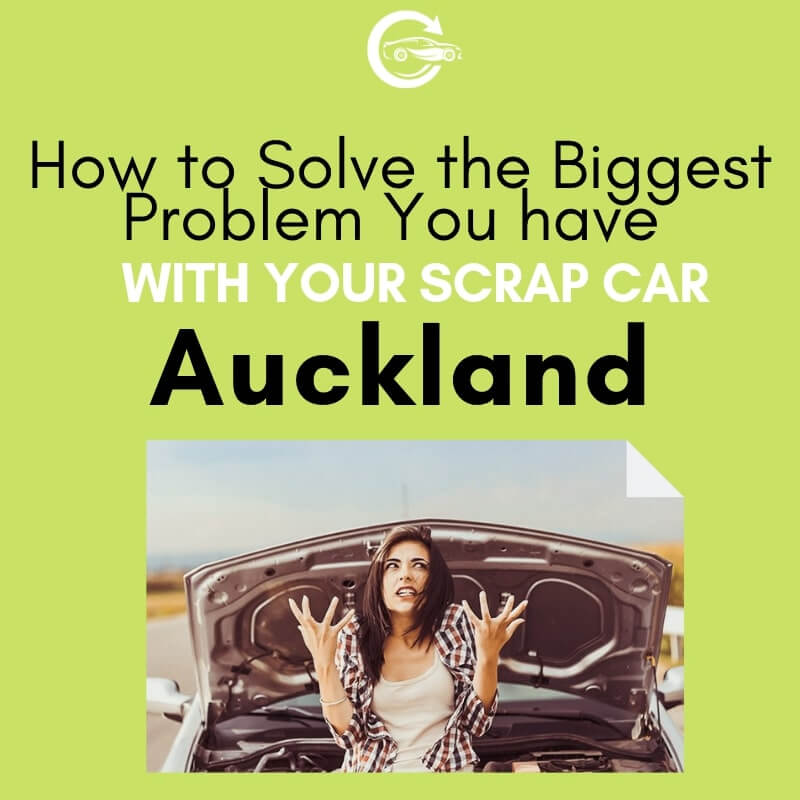 Let's talk about the problem first…
Having a scrap vehicle at home is not the nicest thing to happen to someone. Yet, sometimes people procrastinate to the extent of storing a vehicle at home, waiting to sell it for years.
It starts with wanting to sell a vehicle and waiting for the right opportunity, the right buyer, the right price. For your information, it takes an average of 90 days for a person to be able to sell their car in a private sale in New Zealand.
As is history, the enthusiasm for the sale of the car dies off once the offers slow down, and the 'for-sale car' becomes the 'scrap car' or the 'junk car' that nobody wants anymore. Most car owners abandon their vehicle on wastelands or unknown property.
Why is abandoning a scrap car not good?
It might seem obvious to a few who know of climate change and are fully aware of its causes. For the ones who have not considered reading up, here's some news.
Scientists have warned the planet to act, or we could be moving towards an inevitable extinction in 128 months. Yes, you read that right. Abandoning cars that are made of non-biodegradable elements such as plastic and other metals makes it more difficult for us to cope with climate change.
These cars and other vehicles pollute the land we live on, making it uninhabitable for humans and animals alike. It also seeps down to the groundwater that we drink and makes it not-potable.
What can we do instead?
Instead of creating havoc by leaving your car somewhere it should not be, you can sell your scrap car in Auckland. Professional Car Buyers and Scrap car dealers in Auckland will buy your car for cash.
Auckland Car Buyers is a car removal service in Auckland that will buy your vehicle, even the car is complete junk. These cars are used for further scrap metal recycling by scrap car buyers, which is later sold to scrap metal dealers. Recycling an entire car, and getting paid for it, sounds perfect? That's because it is! This is a win-win situation that you can handle by being socially responsible.
Auckland Car Buyer pay cash up to $8999 for your car, and they charge no additional fees for it. This car removal service also offers other benefits that have made them immensely popular, such as free pickups.
How to find a cheap car removal in Auckland?

Auckland Car Buyers offer all their services for free in all the suburbs. The specialty of this organisation is its widespread availability. They are not just available to serve every suburb in Auckland, but they guarantee that they can do it within 24 hours. Their services also include an instant cash payment to the customer as soon as the vehicle has been picked up.
What about other vehicles that are junk or scrap?
ACB will buy all kinds of vehicles ranging from cars, trucks, vans, utes, SUVs to buses. Their customer care officers are very friendly and will guide you through the process.
The process involves three major steps, which begin once you give them a call. Getting in touch with them is easy, you can do it online or on the phone.
The next step is to get a free quote from the team member who is attending you. This quote is given to you after you have been asked a bunch of questions about your car's make, model and condition. This quote can be as high as $8999 cash for the car.
After this, you will need to give them your address and book an appointment for your car removal in Auckland.
Thirdly, you will need to attend the driver's call when he reaches your location and confirm your presence.
He will then pick up your car, do the paperwork for you and pay you.
Once this is done, you need not worry about your vehicle. The team at Auckland Car Buyers will put it to good use for a good purpose.
You can get in touch with Auckland car buyers online, by inquiring through their 'Get a Quote' form. This form asks for basic details of your vehicle, after which you will get a call from the customer care agent who will personally asses your vehicle.
Alternatively, you can also give them a call on 0272768592
If you are planning to sell your vehicle in Auckland, you can try getting in touch with ACB today, and get it done within 24hours.